Target IQ levels for Mensa & other high IQ societies
The diagram shows the distribution of IQ levels in the general population. 68% of the population have an IQ between 85 and 115. Mensa requirements as well as International High IQ Society and Cerebrals Society are shown.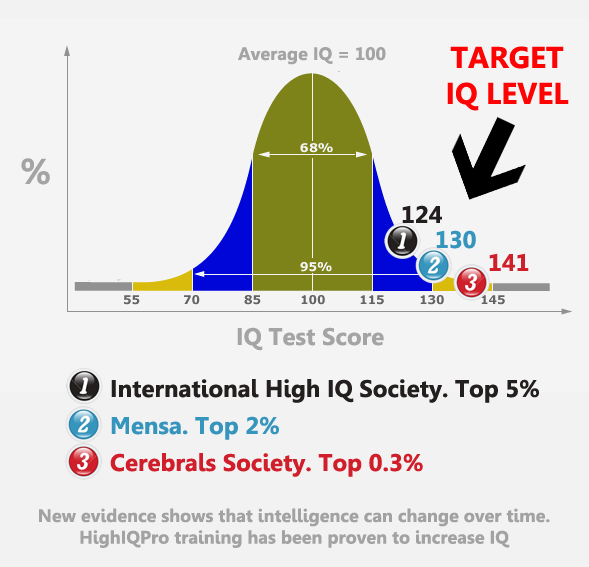 .
Your estimated long-term IQ increase with HighIQPro training
Based on scientific research, your IQ will increase between 10-20 points as a result of HighIQPro training. This effect is long-term due to neuroplasticity changes in your frontal cortex. This increase is money-back guaranteed.
Testimonials
.
I've always wanted to join Mensa. I came across your article on Mensa membership and this inspired me to train with HighIQPro – in preparation for the Mensa qualifying exam. I stuck to the program, and it certainly helped me attain my life-long goal. Thank you for this software.
Jana Oster, Furth, Germany 
.
Hi…Im a great fan of your software….Im a mensa member now after using your software…it gave psychological satisfaction too …
Thank u very much…u changed my life.
Zuraisha Husen, USA
.
My IQ was 119 on the Jensen IQ test before training with HighIQPro. After 20 days of training my IQ was measured at 133 on the TRI-52IQ test – a gain of 14 points. That's Mensa standard. I'm thinking more effectively, my decision making is better – I feel smarter too! I strongly recommend this software.
Alison Jensen, UK
.
---
Reach your high IQ goal with HighIQPro neuroplasticity training software
Click to find out what our  HighIQPro application can offer you and how to start your 20 days of training for a guaranteed 10-20 point IQ increase.