1. The only scientifically valid training method for improving intelligence
HighIQPro software builds on the dual n-back brain-training method - a way of training what is called 'working memory' – a short term memory and attention system.
The dual n-back exercise was put into the spotlight by Dr. Susanne Jaeggi and her group at the University of Michigan  in a seminal PNAS paper in 2008: Improving Fluid Intelligence By Training On Working Memory.
 Increasing intelligence is possible after all …with more training leading to greater gains …across the spectrum of abilities. …Almost 40 years ago, Jensen claimed that, when all is said and done, there is not much one can do to raise people's IQs. Jaeggi and her colleagues have made an important contribution… by showing that intelligence is trainable to a significant and meaningful degree.

Robert Sternberg, Professor of Cogntive Psychology, Indiana University
Since this study, many subsequent studies have confirmed the effectiveness of n-back working memory training for a wide range of cognitive functions through long-term neuroplasticity changes:
there is a rapidly growing number of studies demonstrating that training-related increases in working memory capacity can yield improvements in a range of important cognitive skills (Chein & Morrison, 2010) as well as improved cognitive function in clinical populations with known working memory deficiencies.
My own 2013 review of this literature can be found here. An independent scientific review of the effectiveness of working memory training by Dr. Jason Chein can be  found here.
Known working memory training benefits
Working memory dual n-back training  has been demonstrated in controlled experiments to benefit:
short term memory

cognitive control

intelligence and reasoning

reading comprehension

everyday life

cognitive aging

attention related disorders (e.g. ADHD, dyslexia)
2. The popular alternatives: 'No gain from brain training' – Nature
There are a number of popular brain training products on the market such as Lumosity, co-founded by Michael Scanlon after he abandoned his neuroscience PhD at Stanford University, California, An authoritative study published in the scientific journal Nature has recently shown that these do not improve general cognitive ability. Skills on the specific exercises improve with practice, but these exercises do not result in general improvements in brain function, except for specific attentional effects.
This Nature study of popular brain training products can be found here:

The researchers concluded:
"There were absolutely no transfer effects" from the training tasks to more general tests of cognition, says Adrian Owen, a neuroscientist at the Medical Research Council (MRC) Cognition and Brian Sciences Unit in Cambridge, UK, who led the study. "I think the expectation that practising a broad range of cognitive tasks to get yourself smarter is completely unsupported."
A recent review of Lumosity in the Guardian  also concludes that "Websites that claim to increase concentration, verbal reasoning and memory have become big business, despite research that challenges their effectiveness". Last year, Dr Adam Hampshire published research showing that out of 44,600 individuals who took an earlier version of the MRC tests, those who had regularly brain-trained using Lumosity and Nintendo showed no advantage in any form of intelligence relative to those who did not.
3. Our IQ and memory increase guarantee – on independent  tests
We are the only company that offers a money back guarantee if you do not obtain a 10-20 point IQ increase and 40% working memory capacity increase - measured by scientifically valid tests- either professionally administered, or by using the valid tests we provide. And the gains are long-term. Read more..
Other companies (e.g. Lumosity) offer their own internal tests for performance gains, but these lack validity. To quote:
Lumosity users often ask how much they can expect to improve with training. The short answer is you can improve a lot. The chart included shows the average Brain Performance Index (BPI) for users as a function of the number of Lumosity games played, up to 1000 total games.
It is impossible to determine if you have really gained in your IQ or in other areas of cognition from these internal tests. We offer independent scientific tests for IQ and working memory. And we guarantee an IQ and memory increase based on these independent tests.
4. Improving on the limitations of dual n-back training
Traditional dual n-back training has a number of critical limitations reviewed here - including the following:
Motivation. N-back training is hard and traditional n-back apps on the market have a high drop out rate because of this. Our HighIQPro app is designed to build in motivating incentives that ensure that you complete the program and reap the benefits to your IQ and brain function that would otherwise be untapped.
Chunking, etc. The original Jaeggi dual n-back and its variants on the market do not counter a number of  strategies to maintain or improve n-back levels without associated gains in actual working memory capacity – such as chunking, attention blinking and playing the odds. These are reviewed here. HighIQPro is designed to counter these strategies.
Questionable IQ gains. With dual n-back training alone, the research is mixed as to whether an IQ gain automatically follows (although the other important cognitive benefits are not in question). A number of recent studies have challenged the Jaeggi study, showing that with certain populations (e.g. college students) n-back training does not result in an improved IQ – such as this one. HighIQPro combines dual n-back training with IQ problem and brainteaser training in a way that systematically improves not only your working memory capacity, but also your strategies for solving problems, reasoning and decision-making. Both types of brain training are needed for substantial IQ gains. This method is called capacity-strategy training.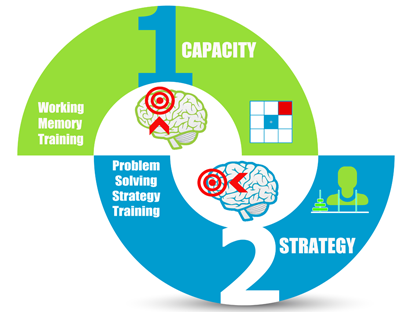 5. Scientific credentials of developer
HighIQPro has been developed over several years by cognitive neuroscientist Mark A. Smith, Ph.D.  Dr Ashton Smith obtained a Ph.D. in cognitive psychology and neuroscience from the joint Carnegie Mellon University and Pittsburgh University Center for the Neural Basis of Cognition (CNBC) program. Between 2000 and 2003 he was a Lecturer in the Experimental Psychology Department at the University of Cambridge, England.  His active research in IQ interventions can be found here. His CV can be found here. His current online research program – CogPsyLab – can be found here.
6. HighIQPro is easy to use – for desktops, laptops and mobile devices
You can download our software applications in less than a minute. The online instructions quickly guide you through the training exercise. You do not need to be online to enjoy HighIQPro's simple interface and easy-to-learn exercises. And each day's workout takes only 15-25 minutes.
7. Thousands of users have benefited from HighIQPro training
We have been selling HighIQPro for three years. Our customers have consistently attained their IQ goals, and enjoyed the benefits of improved brain function – whether for general brain fitness, high IQ societies such as Mensa, education, work or to help with ADHD and other disorders.
Hi…Im a great fan of your software….Im a Mensa member now after using your software…it gave psychological satisfaction too … Thank you very much…you changed my life.
Zuraisha Husen, USA
For all our reviews and user endorsements click here.